Electronic Check Processing:

Checks on Demand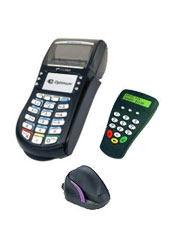 Electronic check conversion with guarantee. Process checks just like credit cards!
Each check transaction is approved and deposited electronically in a secure format. View Sample Receipt
All approved checks are guaranteed!
Funds are deposited electronically in 24 to 48 hours, right into your bank account.
No more checks to deposit at the bank.
No more hassle with collections or filing warrants to collect bad checks.
Similar fee structure as credit cards.
Available in a landline or ethernet format (Hypercom T4220 & Magtek Imager).
Quick Answers:
Paper checks are scanned through a check imager (required) and converted to a digital transaction. A paper receipt prints out on the credit card terminal, which the customer signs (just like credit card transactions). You keep the signed receipt and return the check to the customer. At the end of the day, electronic check transactions are 'batched out' just like credit cards, which means the data is sent to trigger the movement of money from your customer's bank account into yours.
5 to 7 business days. Check transactions need to clear through the Federal Reserve System, which takes a few days longer than credit card transactions.
The Checks on Demand system has two backups:
First, because each check transaction is stored in digital form, it can be represented a 2nd and 3rd time. This happens without your customer even knowing it, and you don't have to lift a finger. Representments resolve most first-time deposit failures, usually due to NSF's (insufficient funds) fom an unbalanced checkbook.
Second, all check transactions that are approved through the Checks on Demand system are guaranteed. This means that if the 2nd and 3rd attempts don't work, we do the legwork to collect. Regardless of the outcome, you'll receive the funds either when we collect, or within 30 days, whichever comes first.
Both personal checks and business checks are covered.
Yes. For a nominal surcharge, STOP PAYMENT hassles can be neutralized.
If you are the type of business where customers frequently want to pay by check, then yes! In any case, having more payment options available to your customers is always good for business. Make it easy for them to pay!
Here are some common business types that are good candidates for Checks on Demand:
Restaurants
Nail Salons
Pizza Delivery
Liquor Stores
Auto Repair