Free Fanminder:

Free Customer Loyalty & Viral Marketing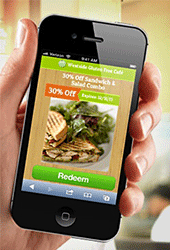 Free Fanminder Marketing Platform.
Put viral marketing to work for you!
Get new customers.

Drive walk-in traffic.
Increase average transaction size.
Increase total business volume
Promote your brand.
Encourage loyalty
Benefit from viral sharing.
Track your results.
Quick Answers:
Fanminder is an online marketing tool that makes it easy for small business owners to grow revenue by turning customers into repeat visitors. The strongest feature behind Fanminder is the capacity for your marketing message to go viral!
Increase sales! Fanminder can help you grow your monthly business volume by as much as 6%. Ensure that your customers not only want to, but also need to return and make further purchases.
Here are 5 good reasons to use Fanminder:
Fanminder helps you create more loyal customers and increase repeat sales because it helps you easily market to your existing customers. Customers can generate anywhere from $300 to over $1,000 in incremental sales per month.
Itís much more cost-effective to market to your existing customers than to advertise to get new customers.
Fanminder helps you give your fans the #1 thing they want: money-saving opportunities.
Fanminder is dead-simple to start and use, with templates to take the guesswork out of what type of marketing message to send.
Itís very affordable Ė Fanminder is free to all merchant who process their credir card transactions with Money Tree Merchant Services.
Fanminder allows you to store your customers' contact information securely on our server. Using Fanminder, you will contact your customers with regular promotional offers and incentives via text message, email, website, and social media (such as Facebook and Twitter).
Here is a suggested cycle of activity using Fanminder:
Create an offer. Fanminder takes the guesswork out of what marketing to send with offer templates, hundreds of headlines, and dozens of stunning themes.
Press one button and send an offer to your Facebook Timeline, Twitter stream, your own email list, your mobile phone list, and even your website.
Fans see your offer and show it in your store on their phone to redeem it.
Our real-time dashboard shows how offers are performing.
Helps you grow your fanbase with signage, online sign-up forms, Facebook Savings Tabs, and welcome offers for joining your mobile fan club.
Your account is password-protected, so only those people to whom you have given this information can access your account.
Fanminder usually costs $30 per month. But for business owners who process their credit card transactions through Money Tree Merchant Services, Fanminder is absolutely free!