Internet, Mail & Phone Order:

Authorize.net eCommerce Gateway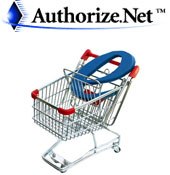 Free Authorize.net:
Online Payment Gateway for eCommerce
Free Authorize.net license.
Online Terminal included.
Compatible with most shopping carts.
ZERO application fee.
ZERO annual fee.
FREE phone training.
No "bait and switch" rates.
Quick Answers:
Yes, really! Once your Authorize.net license is activated by us, it's yours to keep forever.
Yes. The Authorize.net Gatway and Online Terminal meet the highest standards of security in handling and transmitting cardholder information.
No. Although Authorize.net works well with most shopping carts and is a perfect complement to an eCommerce suite for an online business, many other business types us the Online Terminal to manually key transactions. Here are a few examples:
Mail order businesses.
Phone order businesses.
Trade Show vendors.
Dispatch services.
Visa, MasterCard, Discover, American Express.
Yes. You'll be able to accept any debit checkcard that bears the Visa or MasterCard logo.
You can receive either your Authorize.net license fully activated or the PC Charge Pro software within 2 to 3 business days.
A bona-fide merchant account used in conjunction with a trusted name like Authorize.net gives your business credibility. Plus: those 3rd party payment vendors collect data on your customers so they can make them their customers. Why compete with your payment processing provider?
The Authorize.net license is free, secure, and easy to use.