Free Terminal Placement Program:

Free Hypercom M4230 Wireless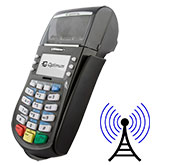 Hypercom M4230 - AT&T:
No purchase required.
AT&T nationwide wireless coverage.
ZERO application fee.
ZERO annual fee.
FREE phone training.
No "bait and switch" rates.
Quick Answers:
Yes, really! You keep the Hypercom M4230 wireless terminal as long as you process with us. Should you ever terminate your relationship with us, you have 10 days to return the equipment. There is no sign up fee, no annual fee, no purchase or rental or lease.
Yes, absolutely. The free Hypercom M4230 wireless terminal has an internal battery and an internal wireless modem which allows you to go wherever your business takes you!
Wireless coverage is nationwide and generally excellent, but you should check the signal strength in the locations where you do business. Consult the appropriate coverage map for AT&T (see above).
No. The wireless terminal is a self-contained wireless device that functions without any external connections.
Visa, MasterCard, Discover, American Express.
Yes. The free Hypercom M4230 wireless terminal has an internal pin pad that allows customers to enter their PIN number. You'll be able to accept any PIN-based debit card, checkcard, or EBT card.
You can receive the terminal fully programmed and ready to plug and play within 2 to 3 business days.
The battery life is good for 400 transactions per charge.